An off-road excursion in Pindus National Park (Valia Calda) combines the fantastic natural landscape with a short hike (40 min.) and swimming in the natural pools of Arkoudorema stream.
Where Valia Calda begins, we meet beautiful landscapes, such as Vovousa with the Aoos river that passes through the village, high peaks, steep slopes, stunning colors, spectacular trees, and a strong taste of the wild beauty of the Pindos National Park, combined all together in a magical mountain landscape that nature has given us. An ideal excursion for nature lovers and people who love swimming in rivers.
Itinerary
Our excursion starts with Valia Calda as our first destination, and we will head to the core.
From the heart of the National Park, we will start our hike to the natural pools of the Arkoudorema stream.
Once we reach the natural pools, we will enjoy swimming and return to the vehicle to cook our traditional meal.
Then we will head to Vovousa. Our route there gives us an incredible landscape with
tall black pines, streams, and high peaks.
In Vovousa, we will take a break, and whoever wishes can swim in the clear waters of the Aoos river, under the bridge of Vovousa.
Finally, we will visit the source lake Aoos and the incredible mountain landscapes around the lake on our return.
1 pax 310€
2 paxes each 152€
3 paxes each 123€
4 paxes each 102€
5 paxes each 90€
6 paxes each 82€
Second Jeep
7 paxes each 125€
8 paxes each 108€
9 paxes each 98€
10 paxes each 88€
Image Gallery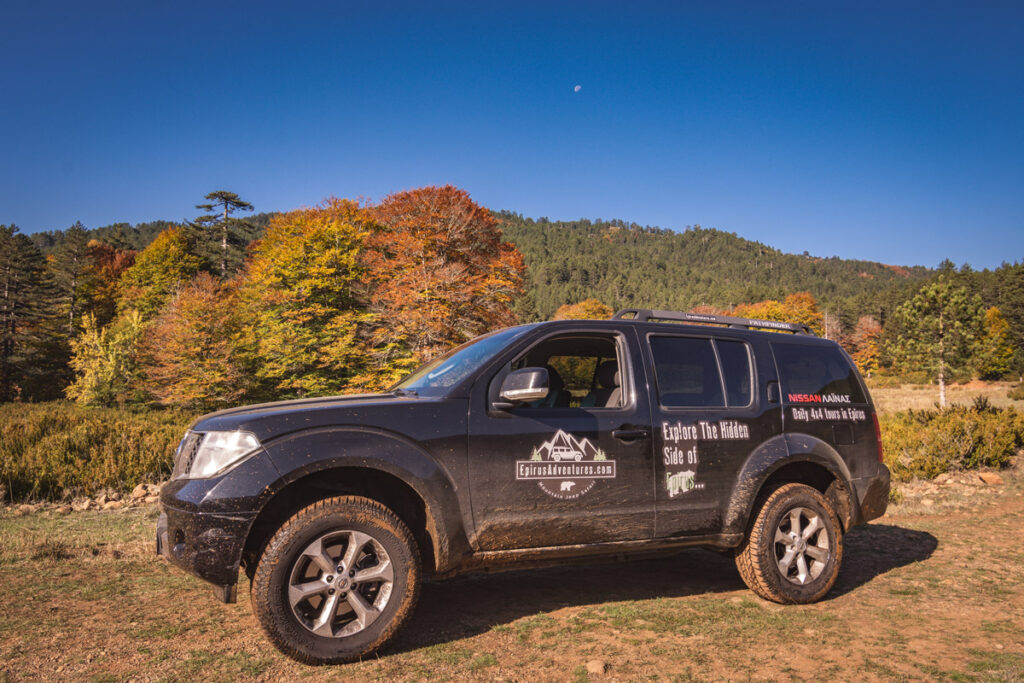 Important Information
Price Includes
English speaking guide/driver‎
Hiking poles
Hotel pick-up & drop-off
Picnic (seasonal fruits, energy bars)‎
Cooking (Traditional trachanas, season salad)
Liability insurance
Taxes
Price Excludes
Meal at restaurant
Personal accident insurance
Tips and gratuities
Anything not mentioned above